| | |
| --- | --- |
| Optical Design | McPherson Model 251MX Spectrograph |
| Focal Plane Length | ~25mm |
| Angle of Incidence | 87 degrees (< 3 degrees grazing) |
| Detector Position | micrometer slide and rotatable |
| Grating Mount | 2-position, adjustable in vacuum |
| Zero Order Baffle | standard, adjustable in vacuum |
| Entrance Slit | continuously variable from 10um to 3mm, adjustable in vacuum |
| Wavelength Range | refer to grating of interest for range |
Model 251MX Grating Selection (up to 2-gratings may be installed)
| | | | | |
| --- | --- | --- | --- | --- |
| Grooves/mm | 120 | 300 | 1200 | 2400 |
| Deviation Angle Degrees | 170 | 170 | 170 | 174.4 |
| Resolution (nm) | ~ 0.3 | ~ 0.12 | ~ 0.028 | ~ 0.01 |
| Focal Plane Width (mm) | 25 | 25 | 25 | 20 |
| Spectral Range (nm) | 50 to 200 | 20 to 80 | 5 to 20 | 1 to 5 |
| Spectral Range (eV) | 25 to 6 | 65 to 15 | 248 to 62 | 1240 to 248 |
Outline Drawing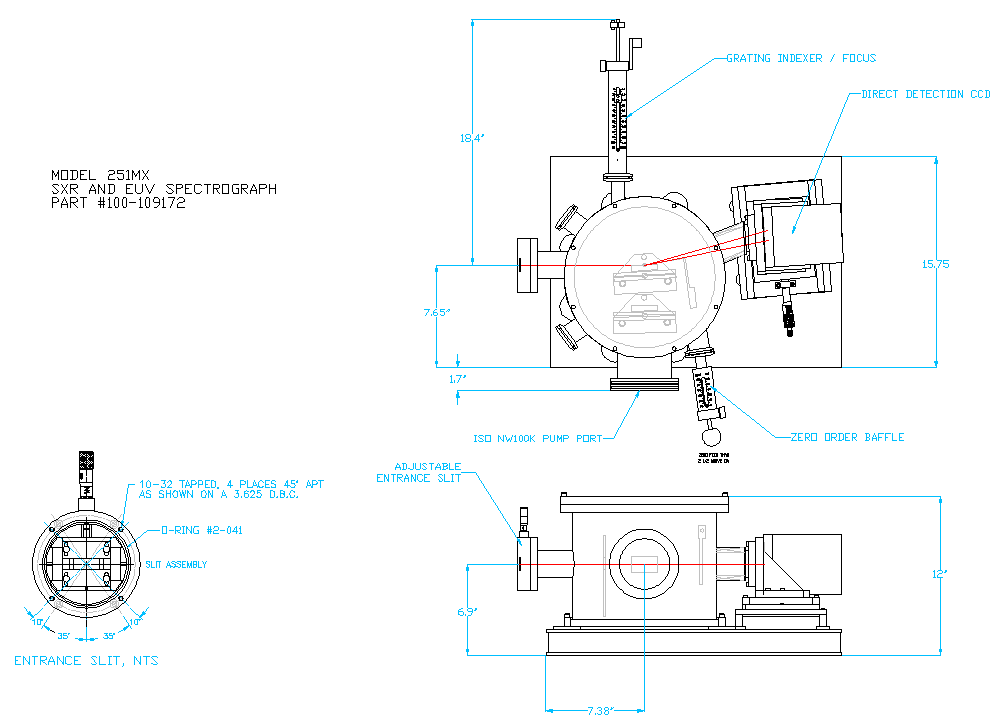 Modes of Operation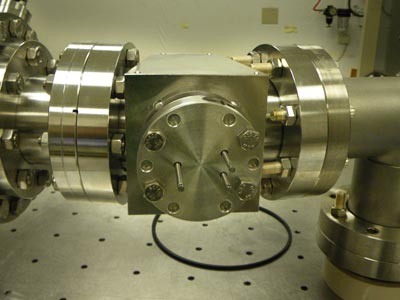 Flat field aberration corrected toroidal grating spectrometer fills a 40mm focal plane ideal for microchannel plate intensifiers. Compact and versatile most are in use in tokamak plasma research, some now for high harmonic generation and attosecond laser physics. Versions exist with dual and triple grating turrets, back-to-back diffraction gratings for simultaneous, dual-range monitoring, rocking mechanisms to scan large plasma sections and more.
For a general purpose laboratory instrument, greater flexibility, or astrophysics instrument calibration (for example) consider the Rowland circle design grazing incidence system Model 248/310G. It provides most flexibility with respect to wavelength range. Many grating choices are available and it delivers excellent spectral resolution.
Call to discuss the deatils of your application today.